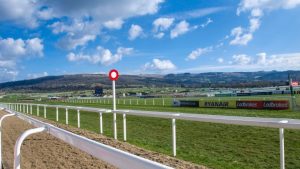 by ANNIE DALE The Cheltenham Festival is one of the top jump racing events in the sport but it has also been a risky event due to the layout of some of the jumps. But those in charge at Cheltenham are taking steps to make it safer for the horses and jockeys involved in festival races by changing the course's fence set up. This change will come on the final stretch of the course, where the winner of the race is often determined. It is the penultimate jump in the race, which had been notorious for seeing falls, more than any other jump on the track. Just last year, Ruby Walsh suffered a broken leg in a fall at the fence.
Walsh and other jockeys had voiced concern with the feasibility of the fence location, hoping that it would be moved further down the straight. The goal with the move is to make sure that the horses have time to straighten themselves out after the final turn, making it so they don't have to turn and jump at the same time.
From a safety perspective, the change to the jump pattern at Cheltenham is good for everyone involved. Races that feature these jumps are inherently more risky for all parties than Flat racing, and reducing risks in any way possible is always going to be seen as a positive. And from a horse safety perspective, this change should do a world of good. Of course, those riding the horses should benefit from the change as well.
Racing fans shouldn't feel much of a difference after the change either. The jump still has to be made by the horses, and seeing more horses complete the race can only be a good thing. This is especially true for horse racing punters, who will be statistically more likely to see their selections finish an entire race without having to worry quite as much about them failing to get through all of the jumps Cheltenham has to offer.
For the 2019 Cheltenham Festival, expect these changes to have an impact at the betting window. Horses who are able to navigate jumps more consistently should be rewarded over horses who have handled the final jumps on the course well previously. This could be a reason that Gold Cup 2019 tips have not been as kind to 2018 winner Native River as some might have expected, as the defending champion will have a slightly different course to navigate that should be more manageable for everyone.
This change comes a year after Cheltenham Festival lowered the sizes of race fields in an attempt to reduce crowding on the track and lower the risk of injuries. If nothing else, Cheltenham Festival has proven that they are willing to do whatever they can to reduce the risks for horses competing in their races, from the smallest race on the schedule all the way to the Gold Cup.