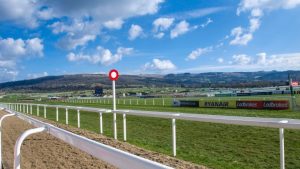 by ANNIE DALE For horse racing fans – and indeed fans of quality sport in general – there are few better events than the four marvellous days in March of the Cheltenham Festival. The very best of the racing talent from both sides of the Irish Sea descendS upon the Prestbury Park venue for what is effectively the season's Championship meeting and an unsurpassed betting bonanza! Champions will of course be crowned on the track each and every day, and whilst the spectacle of this event is magnificent in its own right, the aim of all punters is to achieve a little – or perhaps a lot – of that winning feeling for themselves. One of the most popular ways in which bettors seek to do this is via the medium of the small stakes-big rewards potential of a horse racing accumulator bet.
An accumulator bet in the world of horse racing is any bet which requires more than one horse to win in order to pay out, beginning with the humble double and moving on to trebles, four-folds, five-folds and upwards. Let's take a closer look.
Football vs Horse Accas
The world of football betting is perhaps the setting most associated with the acca bet, which has become so beloved of punters around the world. For many, placing that Saturday afternoon acca is now firmly part of their weekend ritual and certainly adds a little extra to the day's action. With its multitude of short priced favourites, football does lend itself ideally to an acca bet as punters seek to boost their potential winnings, but it is far from the only sport on which we are able to place this type of bet.
Accas have been with us for just as long in the world of horse racing betting and continue to hold immense appeal. Given that prices in broad terms can be significantly bigger about a horse winning than a football team coming out on top, the potential winnings for a successful horse accumulator can be correspondingly vast – as we will see below.
Accas in horse racing work in exactly the same way as in any other sport, with the total returns from one leg of the bet rolling on to the next leg. Should just one leg lose, the whole bet loses. There are however ways to mitigate this risk through each way accas and perms, which we discuss in this article.
Looking at the Cheltenham Festival itself, horse racing's biggest event provides one of the very best opportunities to place those horse racing accas. The first advantage of the festival comes in the form of choice: With many bookmakers providing prices for all 28 contests of the meeting from as early as January (see https://www.oddschecker.com/Cheltenham-Festival for the latest odds) punters have ample opportunity to pore over the lists of runners and pick out that potentially lucrative treble or fourfold.
The second big benefit comes through the variety on offer. Whether your preference is to seek out three or four solid favourites at relatively short prices, or perhaps to seek out two or three at more lucrative odds, you won't be short of options at this meeting. There is also no shortage in accumulator betting offers available from the top UK bookmakers. A self-proclaimed "home of betting", William Hill offers Cheltenham specials of all kinds, including its Acca Bet Boost that allows punters to "boost" prices on accas with a minimum of 3 selections once a day, every day!
Top Cheltenham accumulator wins
If there's anything to stoke the enthusiasm for an accumulator bet at the Cheltenham Festival that little bit more, it's a tale of a big success from a previous year. Encouragingly we have plenty such stories from which to select, with two of our favorites being:
2018: Martin Palk Cleans Up: Cleaning company owner Martin Palk showed us all how it's done in 2018 with a spectacular each way Lucky 31 bet which combines five selections in each way singles, doubles, trebles, four folds and a five-fold. Birmingham based Martin was no doubt hoping for a positive return when he placed his bet, but what he pulled off in the end was truly spectacular, as Shattered Love (5/1), Delta Work (9/1), Penhill (12/1), The Storyteller (7/1) and Missed Approach (10/1) all came home in front to hoover up the bookmakers cash to the tune of £168,751.
2012: Murphy's Million: As incredible as Martin Palk's win was, it was but small change compared to that achieved by stable lad Conor Murphy in 2012. Taking advantage of the early prices available in late December, Conor took the opportunity to back five of his bosses – trainer Nicky Henderson – horses in a speculative £50 fivefold. You need to speculate to accumulate as the old saying goes and Mr Murphy accumulated in amazing style as Sprinter Sacre (10/1), Simonsig (14/1), Bobs Worth (10/1), Finian's Rainbow (8/1) and Riverside Theatre (9/1) all won their respective races to hand Conor a cool £1million. The stuff dreams are made of, and Conor used the cash to fuel his own dream and is now a trainer in his own right.
Popular Multiples
As mentioned it is possible to reduce the risk of a straight accumulator bet by turning to one of the many permutation bets available. Here we outline a few of the most popular.
Trixie bets:
One popular bet which takes the disappointment away should just one selection let you down is the Trixie. Made up of three selections, the bet contains three doubles and a treble as follows.
Doubles:
Horse A and Horse B to win
Horse A and Horse C to win
Horse B and Horse C to win
Treble:
Horse A, B and C all to win.
The main aim is of course to get all three home in front, but at least with a Trixie, punters know that two winners will still generate a return.
Yankee bets:
This is basically the next step up from the Trixie. Containing four selections, the Yankee bet contains six doubles, four trebles and a fourfold as follows:
Doubles:
Horse A and Horse B to win
Horse A and Horse C to win
Horse A and Horse D to win
Horse B and Horse C to win
Horse B and Horse D to win
Horse C and Horse D to win
Trebles:
Horse A, B and C all to win.
Horse A, B and D all to win.
Horse A, C and D all to win.
Horse B, C and D all to win.
Fourfold:
Horse A, B, C and D all to win.
This bet has the benefit of at least getting something back – and perhaps still a decent profit – should only half of your horses win, whilst still possessing the potential of that bookie busting return if all four prevail.
Lucky 15 bets
One of the most popular horse racing bets around. A lucky 15 is identical to a Yankee but also contains four single bets on your four selections. We therefore need only one winner to generate a return. With bookmakers offering double and sometimes treble the odds should punters achieve only one winner in this bet, a solitary success may be all we need to move into profit or at least cover our stake.
Each Way Accas
The each way acca consists of two bets. One bet on the selections all to win, and a second bet on them all to finish placed. Placed generally means to finishing in the first 2, 3 or 4 positions depending upon the number of runners in the field.
The win side of the bet will pay out at full odds.
The place portion of the bet will be settled at either 1/4 or 1/5 of the win odds, again depending upon the number of runners and type of race in question.
Each way accas offer an excellent insurance option and can be rewarding in their own right should all of your selections finished placed, particularly if one or two of your runners are at bigger prices.
Acca insurance
As one might imagine – or indeed know from painful experience – there are few things more frustrating than having just one leg of an accumulator let you down. Thankfully one of the newer innovations in the betting world can act to soften this blow; namely that of acca insurance. Here bookmakers will return your stake as a free bet should all but one of your selections win. Three of the best acca insurance options available are:
888sport Acca Saver: Place an acca containing six or more selections across horse racing, greyhounds or football and should just one leg lose your stake will be returned as a free bet. Minimum odds per selection: 1/2. Minimum qualifying stake: £2. Maximum free bet refund: £25.
Boylesports Acca Insurance: Money back as a free bet should just one leg of an accumulator containing five or more selections from any sport let you down. Minimum odds per selection: 1/2. Minimum qualifying stake: £5. Maximum free bet refund: £20.
Bottom line
With the horse racing jumps season now kicking off, the build up to the jewel in the crown of the sport that is the Cheltenham Festival will soon begin in earnest. Be it on the day of the races themselves or well in advance – a la Conor Murphy – there are few better ways to add to the thrill than by placing a possibly lucrative accumulator bet. Betting small and winning big is after all the dream of many punters, and in this regard the acca really does have the potential to deliver.